Friday's Inspiration Weekly
No Place to Hide, Nowhere to Run
Appetizers:
Acceptance of one's life has nothing to do with resignation; it does not mean running away from the struggle. On the contrary, it means accepting it as it comes, with all the handicaps of heredity, of suffering, of psychological complexes and injustices.
Paul Tournier, The Meaning of Persons
Show me a man who has acted, and who has not been the victim and slave of his action. What they have done commits and enforces them to do the same again. The first act, which was to be an experiment, becomes a sacrament.
Ralph Waldo Emerson (on Goethe,) Representative Men
Sometimes it is best to just step back, and take stock of where things are in my life. Accepting where things are can sometimes be a hard Path to be On! What can I do to remind myself of the abundance I enjoy?
---
Entrée: Accepting the Hard Stuff by Sibyl McLendon
I have said it before and I will say it again: life is tricky. Just when we think we have it all arranged, all our ducks in a row and that everything is great, the Universe will dig a big hole right in our path for us to fall into. Most of the time we don't have a clue, we are caught totally unaware and we hit bottom. Hard.
When we do fall in, we have two immediate choices: lay there or crawl out.
I know the temptation to just lay there, wondering what happened and feeling sorry for ourselves is tremendous. It is always easier to do nothing. That is one of Sir Isaac Newton's laws: a body at rest tends to stay at rest unless acted upon by an external force.
But, we need to create our own 'external force', crawl out of the hole and go on. The alternative is honestly more painful than getting out of the hole will ever be. If we just stay put, we are opening ourselves up for pain and depression, and they will be with us until we take the necessary steps to move on.
How to create that force is the issue. The best first step I can offer is to accept that sometimes, things just happen. There is always a reason for it but you may never know what that reason was. Just because you fell in the hole does not mean you a bad person or a stupid person. It means you're human.
The second step is realizing that being human means that you will make mistakes. Everyone does, even the best and brightest, the smartest and the most successful. The difference between them and the average person is how they view the world and the decisions they make when they are lying at the bottom of the hole. Those people see mistakes as lessons and adversity as opportunity.
Next, you must learn that how you view 'the hole' determines how long you will stay in it. It is difficult for some people to learn, but each and every one of us has total control over how we will act and react to adversity. Consciously or subconsciously, we control our every thought and emotion. Many people believe that they are simply helpless victims to their emotions and thoughts, and this belief keeps them stuck in every hole they fall into.
When you can see life as just an institute of higher education, you then can view setbacks as lessons and mistakes as tests to be taken. You learn and you move on. When you have achieved this, there isn't a hole anywhere that can hold you for long!
About the author:
Sibyl McLendon, a Navajo woman living in the American Southwest, is a personal empowerment coach for Circle Of Grace. Read more of this remarkable life coach's writing in her new book, The Garden Of The Free Spirit! If you are interested in starting the coaching process with Sibyl, you are welcome to request a free, complimentary session to see if Circle Of Grace is right for you.
---
Second Helping: Your True Nature is High! by Guy Finley (Excerpted from The Secret of Letting Go)
There is nothing wrong with being a successful human being. In fact, the purpose of your life is to win. But what if, in your quest for this victory, you were accidentally drawn into a compelling game in which, unknown to you, it was impossible to win, no matter how well you performed or how religiously you followed the rules? Where, instead of finding the freedom to run as you wish, you found yourself moving more and more mechanically through your days -- and each of these days left you feeling more frustrated than fulfilled, because you were playing under an ever-increasing pressure to succeed!
As if this sorry state weren't bad enough, whenever you looked around to see how the other players were doing, it was obvious they were just as disappointed with the game as you. No one was really winning anything!
Then one day, to your great shock and amazement, you discover that along with everyone else out there on the playing field, you had been tricked into taking part in a crazy game in which the rules you were taught to play by allowed you to score but never to stop running! You could compete but never achieve any meaningful or lasting victory.
This metaphor provides us with an uncompromising glimpse into our own present life-position. And precisely because it is an uncompromising view, it not only tells us why our days can feel so futile, but it also hints at a previously unthinkable solution to our sad situation. Maybe there is a way to win after all!
For the first time we begin to understand why, in spite of our best efforts to come out on top, we are so often thrown for a loss in our relationships and everyday affairs. When these defeats pile up, life seems more of a punishment than a pleasure. We want to give up and walk away. But we can't. The rules we've been taught and play by don't cover or even acknowledge the possibility of life off of the field. We feel stuck. And so, little by little, just like the slow but steady drop in temperature that chills you without your knowing it, giving up just happens. We stop caring about the lasting things that make life good and noble, and start hoping for those little moments that make life on the field seem tolerable.
Listen. Don't give up. You don't have to. You can win in a brand new way. How? Just let go!
Let go of all the familiar but useless rules of rigor that tell you life would be meaningless without running around in some kind of conflict. Stop referring to your own well-worn but useless wish that your life will get better the longer you play. It won't -- unless we believe that feeling exhausted is the same as being exalted. This is why we must start seeing the facts.

Yes, let go. Walk away. Nothing can stop you. Believe me, this is your first in a long series of real winning actions. Never mind what direction to take. It doesn't matter, not in the slightest. Why? Because walking away from what is false is the same as heading towards what is true. It may not seem so at the outset, but for the first time in your life the Rules of Life will be working for you. Here is how it works: Letting go of what holds you down is how you cooperate with going up. You see, your True Nature is high. And this is your new destination. But you don't choose it. No. You allow yourself to rise. This may feel awkward, even frightening at first, but in time you will recognize it as your natural need.
Learn to cooperate with the real Rules of Life, with Truthful Principles, and let them lift you. That is their job. Once we stop choosing to lose, winning in life takes place effortlessly. It is that simple.
About the author:
Guy Finley is the best-selling author of more than 18 books and tape albums on self-realization and higher success. His wors, which have sold over a million copies worldwide and have been translated into ten languages, are recommended by doctors, ministers, and industry leaders. For information about Guy Finley's books, booklets, tapes, and helpful on-going study groups call (541) 476-1200 or visit www.guyfinley.com where you can also sign up to receive a free, weekly Key Lesson.
---
Soup to Nuts: From the Feedback Button
I'm still subscribing people for a test drive of InboxInspirations, a simple, no-frills-or-unnecessary-nonsense ad-free quotation, taken from the pages of back issues of Friday's Inspiration and sent to your inbox every Monday through Friday morning. Subscribers say that each is just the right little gem to help get the day off to a great start. No obligations, no fluff-n-stuff, just a quote.
The Whine List: Enjoy this week's sports Whine of the Week with Corbett Canyon California Chardonnay 1998. It includes Corbett's unique bottle with a square-shaped bottom that is really great for re-gifting to friends when refilled with oil and spices, (a great idea for the upcoming festive seasons, thunk up by N0doubt143). A gentle press, with a lightly citrus-fruited finish and a pale golden colour, it has quite a fresh, creamy palate. The 1999 vintage sells for a bargain £4.49 at most Safeway stores in the UK (around $15US or $19CD). I love wine trivia! Send more.
Click to send your FEEDBACK to me right now!
---
Main Course: Racing the Sunset
This was a hectic week. I knew it was going to be. I needed the 6 hours plus that it takes me to begin my week - the drive from Beaverton, OR to Bridgeport, WA. I made it a leisurely drive, because the day was beautiful, the planets were just right, and my horror-scope said to take a walk, so I did.
Because work is going to get even more difficult, the closer we get to the end of the project, the more I need time to decompress. So this is what I do to regain my perspective. I have a hobby - photography.
I drive through the Columbia George going to and from work. It is populated by a lotta rocks.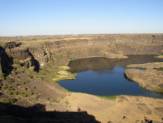 Where the rocks giggle while the water tickles past: I stopped for a look at some of the local waterfalls along the way.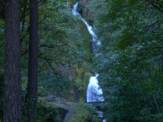 Where the wind plays tricks with the clouds: I get up before the sun this time of year. Some of the sunrises are so incredible. Even just driving during the daytime in this country provides opportunities to appreciate the beauty of Creation.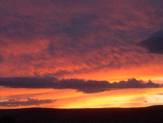 The morning of 9/11/03 dawned with all the promise it did two years ago. Even the moonset, on that late summer morning, was a sight to behold.

The Benificence of The All-Seeing Eye Blesses All: It is the race, either during the week to finish my day's tasks and go where I can see the sunset, or when driving back and forth across states to be at a point where I can witness the majesty of the Light as it marks the end of the day.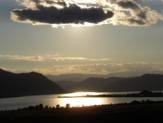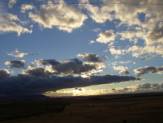 Yeah, I like to watch the sunsets. It is what I do to "get away" and take a look at things from a different perspective, the perspective of abundance. So, Here's to The Sun God -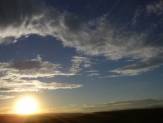 He's such a fun god -

Ra, -

Ra, -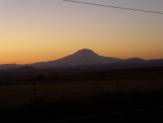 Ra.¤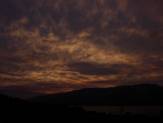 Michael Rawls, Friday's Inspiration
© 2003, text and images, this page. No reprinting of these images without permission of the photographer, like.. me... Use them for your personal use, o.k., but don't share without permission, because that wouldn't be nice...:)
---
Just Desserts - Also Highly Recommended: There have been more than 400 NEW AND UNIQUE visitors to the website during the last month - Thank you for your continued support! Over 400 of our partners on the Internet graciously recommend visitors to Friday's Inspiration. Please take time to visit the "Highly Recommended" links below.
A&E: The Artcyclopedia Maxfield Parrish Page - My personal mostest favoritest artist! Makes great wallpaper for your computer screen. My next in line favorite, for her fantastic and imaginative work, a subscriber and my friend, Canadian Digital Artist Patricia Fimio. Please, follow your intuition, and don't miss her "Thought on Things" page! Pat's site has contributed greatly to the promotion of digital art and beauty on the Web.
"If you are like me, your e-mailbox is overflowing with ezines. Admittedly, I am an ezine junkie! I can't resist a FREE subscription. Unfortunately, there are very few quality ezines that I enjoy reading. BestEzines.com was designed to help you, the subscriber, identify which ezines are worth subscribing to. I have read hundreds of ezines and I rate them based on original content, advertising methods, prompt delivery and website quality. Enjoy!" - Scott Owen, Associate Editor, BestEzines.com (Find out what Scott said about Friday's Inspiration, and why BestEzines is among the top all time promotors of FI.)
Prudence Kohl, Author and Photographer - Visit Care2.com and make a difference! Access over 5,000 E-Greetings, and don't miss Prudence's "Hole in the Garden Wall" and 9 other excellent photographs. Visit http://www.care2.com/send/categories/artists/1348
---
Check, Please! Brought to you by F.I.'s *Shameless Commerce* Division: (100% of the proceeds from the sales of products and services advertised here will benefit Court Appointed Special Advocates for abused and neglected children - CASA.)
The Veriuni Difference: Discover Veriuni nutritional products consisting of all-natural ingredients, gleaned solely from minerals stored within plants and the earth itself, with no artificial ingredients or preservatives. Veriuni products are easy to swallow and taste great to boot. Go to http://www.quickinfo247.com/1357870/VNU
---
Party's over, go home - The rest of the stuff: Article submission guidelines, Subscription information and Member's List Maintenance
Your suggestions for inspirational topics and inspiring authors are welcome. Guest Authors are encouraged to submit their article to Articles@N-Spire.com - Article length should be limited to 600 words in any format, and should be on an appropriate subject for our subscribers. Please include a short biography and picture. Absolutely no business or marketing related articles will be accepted.
Friday's Inspiration continues to be visited by inspiration seekers from around the world! Help spread the word about this one-of-a-kind website. You are welcome to invite your friends to join us by forwarding this message. They may subscribe by sending a blank email to fridaysinspiration-subscribe@yahoogroups.com
Friday's Inspiration Groupmail members may edit their email options at http://groups.yahoo.com/group/FridaysInspiration/join
To unsubscribe from this list, send a blank email to fridaysinspiration-unsubscribe@yahoogroups.com or visit http://groups.yahoo.com/group/FridaysInspiration/join
Online issues of this newsletter can be found at http://groups.yahoo.com/group/FridaysInspiration/messages
Peace and Light,